Well... after many years of handling different TM FN5-7's, I've finally got one of my own many moons ago. This one has seen many rounds down the barrel, many zombies 'killed' and many field players harrassed with wizzing bb's. Yes, I'm a lousy shot at far distances. Mainly because my googles don't mesh well with glasses. heh.
But as my interest in competitive shooting grows, I figure to tune this sucker up for just that: a pistol capable of shooting super accurate at shorter distances that can also be used as a field weapon when duty calls for it.
...plus, it needed a new frame....
For the most part, it does extremely well. This FN5-7 outshoots my most treasured Glocks in my stable in both short and far distances. And dem Glocks don't like it when some G'ed up pistol takes their place. Glocks are jealous whores....Then again...I haven't really tuned dem Glocks just yet...
Anyways, here's my take on FN Herstal's 5-7 released by Tokyo Marui.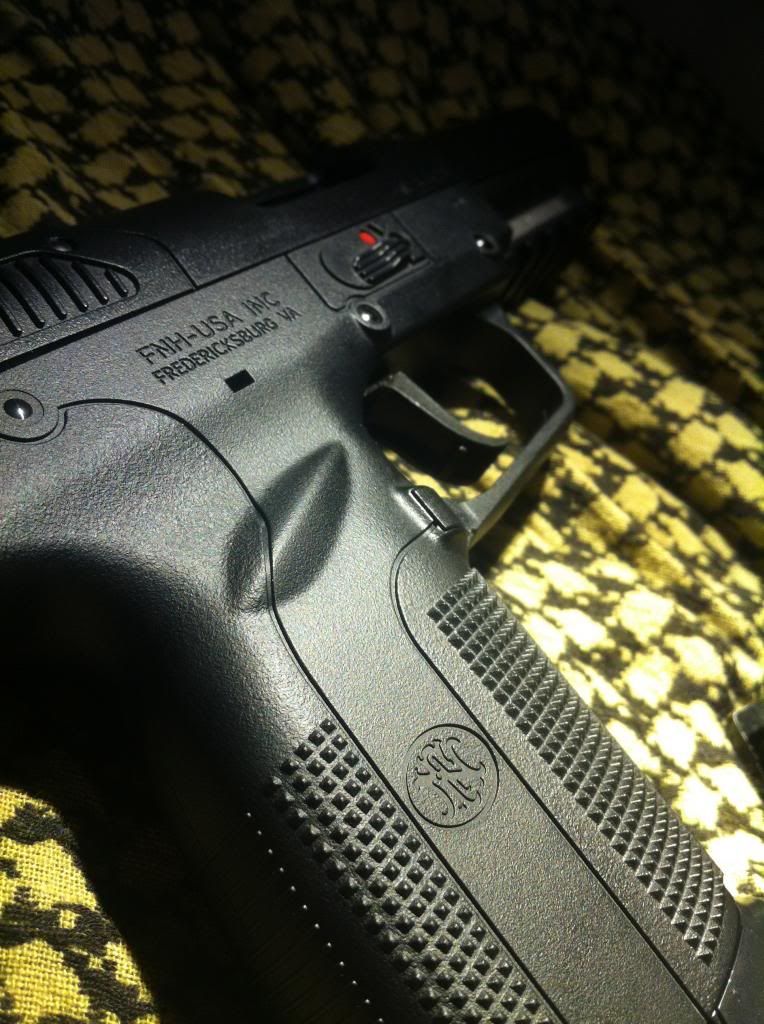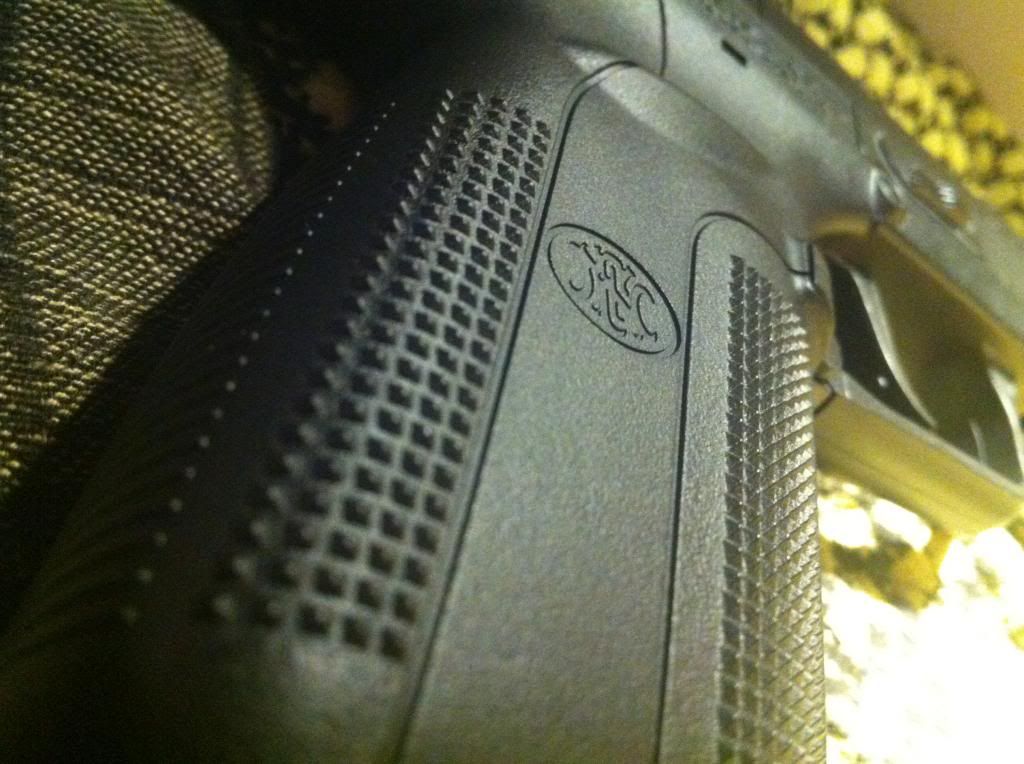 The Guarder Frame offers real world trademarks. But that's all it offers. The plastic seems much cheaper than the Marui OEM. Can't say how long this one will last. It seems pretty flimsy. I just received it and haven't put it through its paces.
The finish is quite nice though. It doesn't have that shiny coat like the Marui Frame does.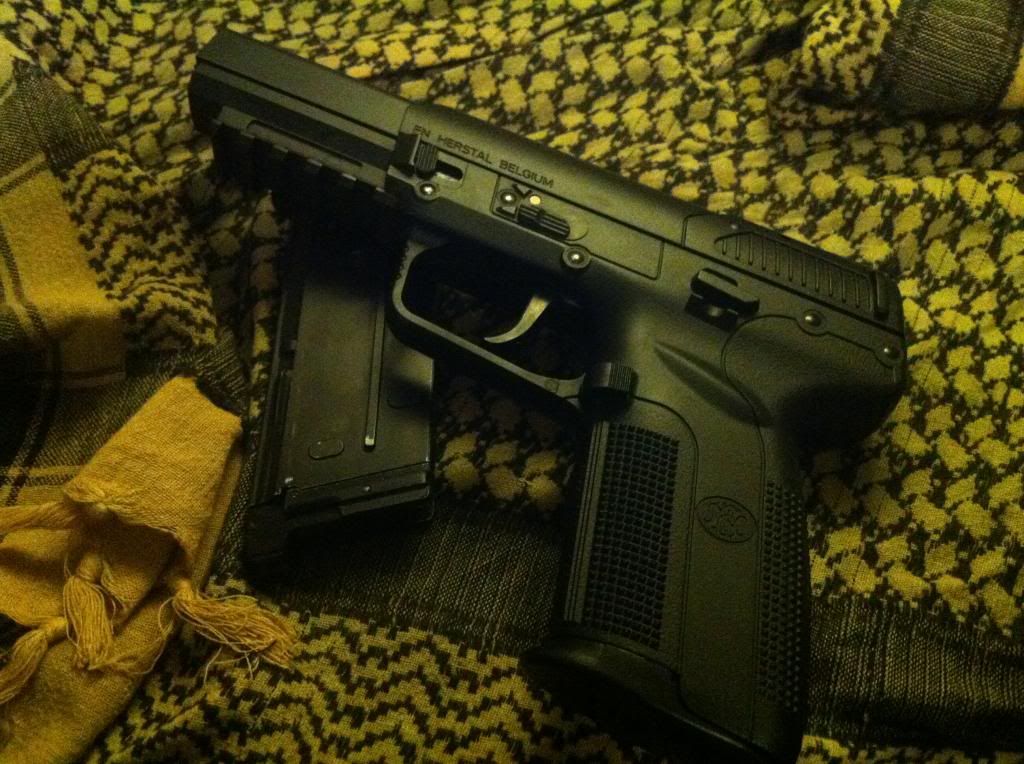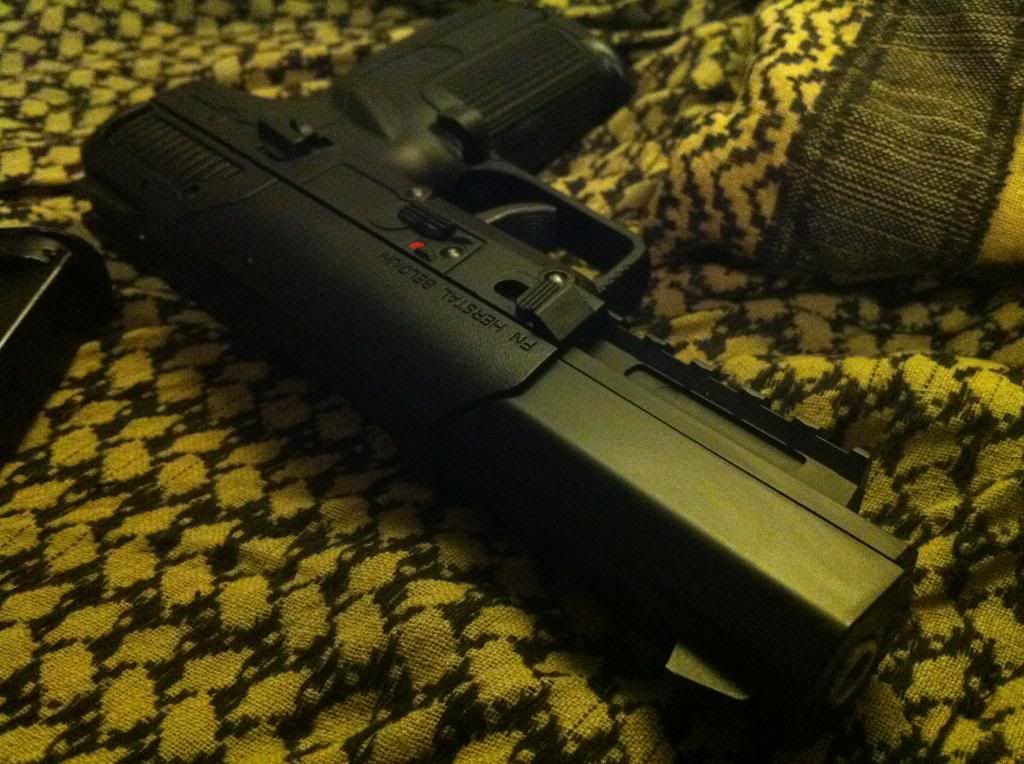 "The Black Edition" just simply refers to the color scheme of the gun...in short. It's all black. On some iterations of the FN5-7, you may notice that the hand controls are somewhat greyish.
The hop-up chamber has been polished to allow for a smoother operation. It has very little friction between the aftemarket aluminum inner slide chassis made by Creation and has zero impedence.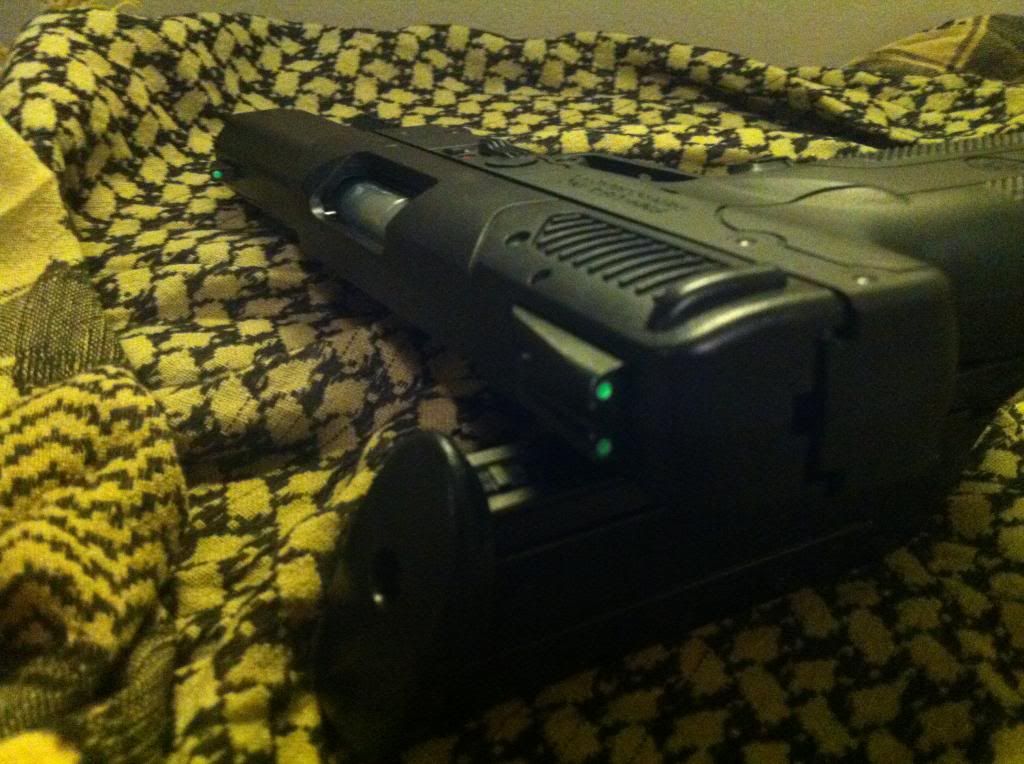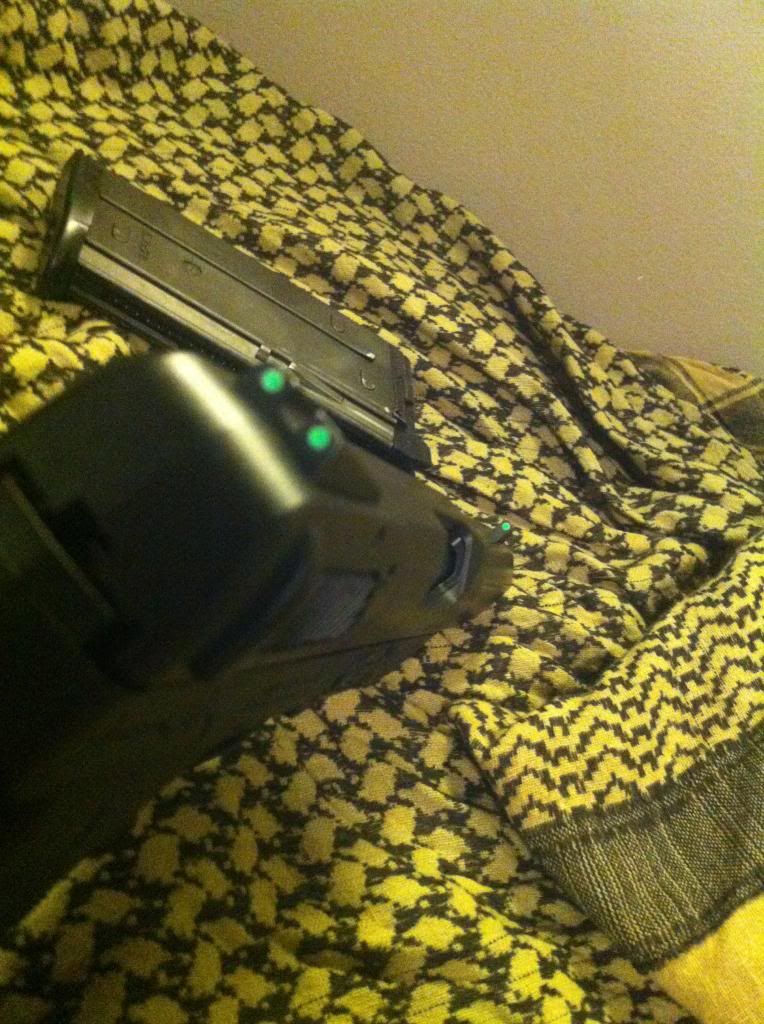 NiteSiters were installed to allow for easier target acquisition. Although, I'm kinda wishing I had installed two different colors on. ILLusion was kind enough to sell me some. If you want some, PM him.
This is my first time applying them so I apologize if they seem like a shoddy job.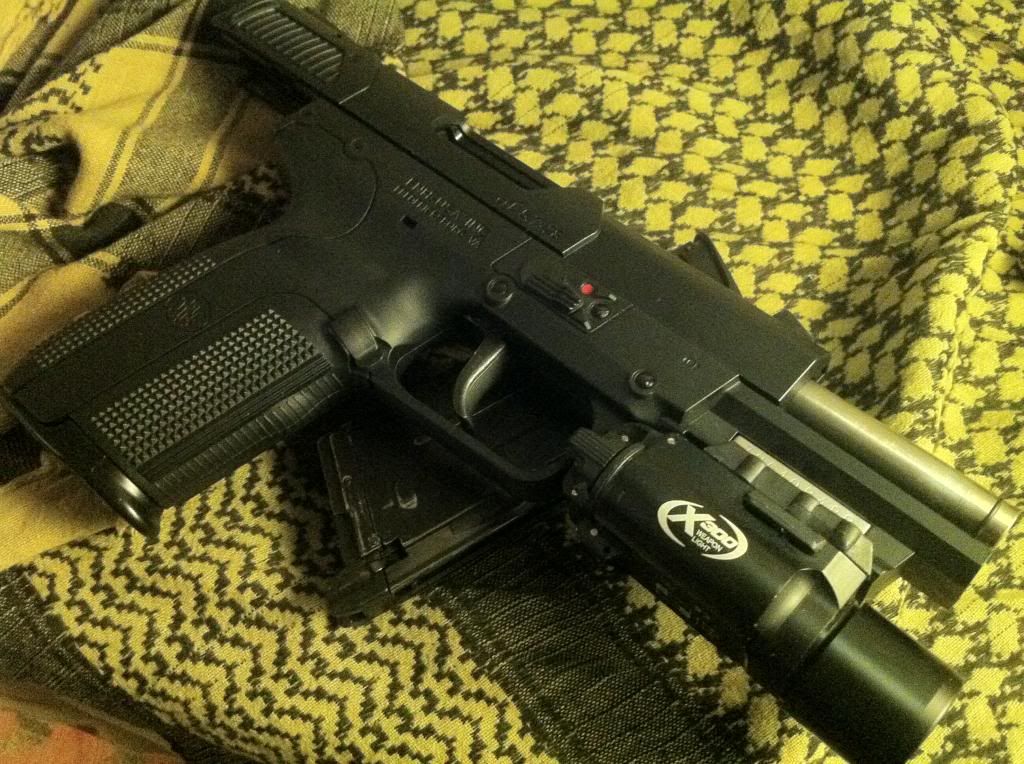 Again, I rigged the gun to have a near flawless slide stroke. The Guarder Steel outer barrel is painstaking polished and smoothened out for the inner slide chassis. At first, it didn't cycle well. So I made the adjustments...
...and a clone Surefire just for good measure....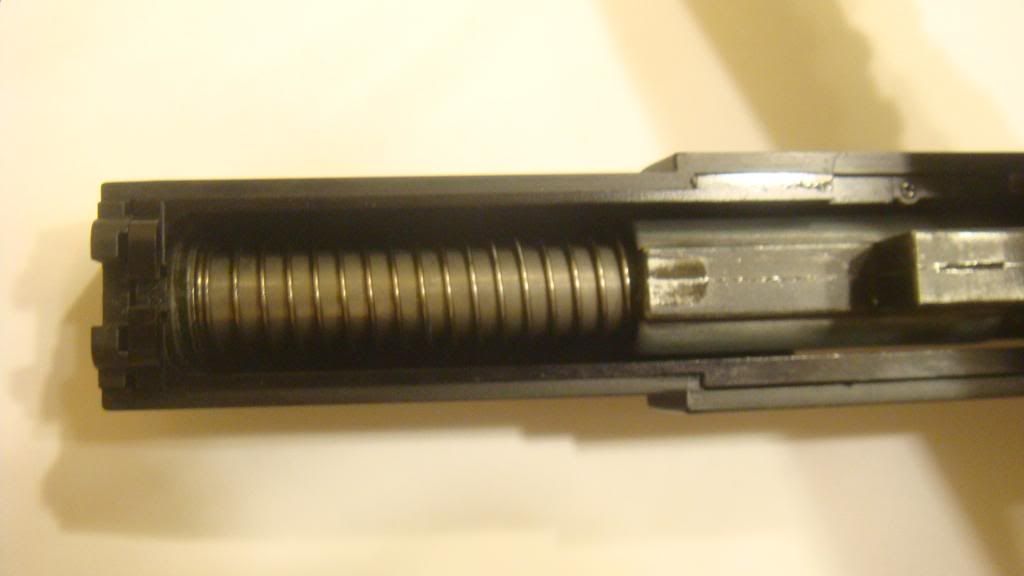 The Creation inner slide chassis allows for greater durability. The part is often reported by operators to be the first of the list of parts that can break in the Marui iteration of this weapon. This Creation one is made of aluminum.
This chasis also helps create a sense of realism to the weapon. The real steel version also uses the exact same set up....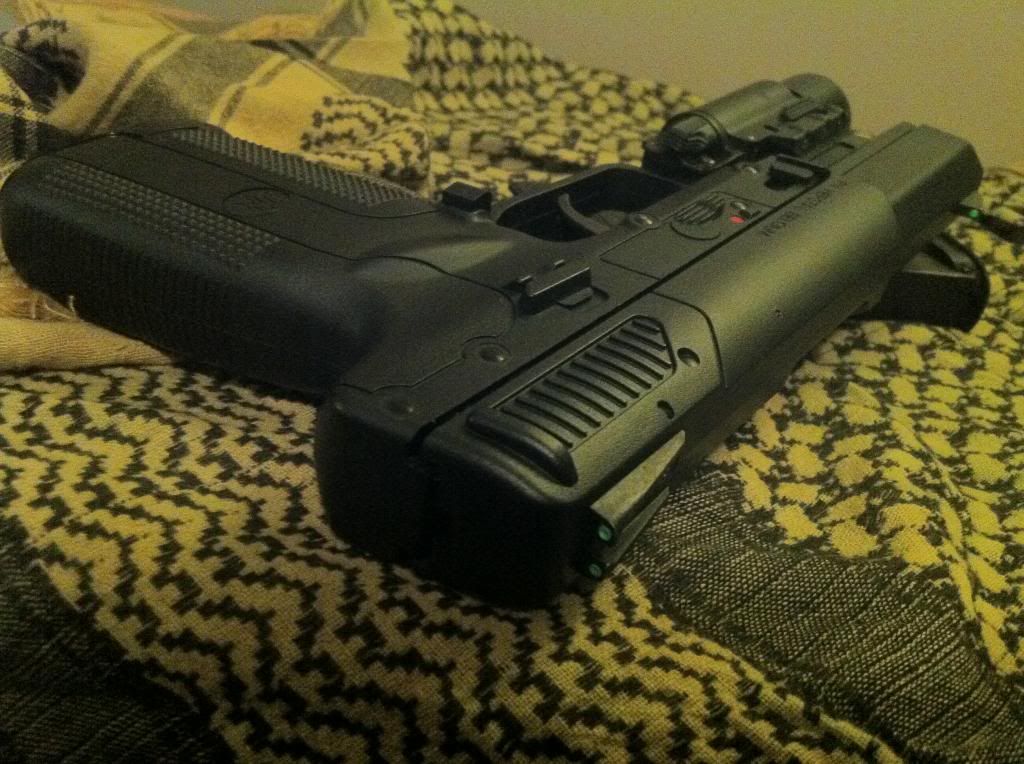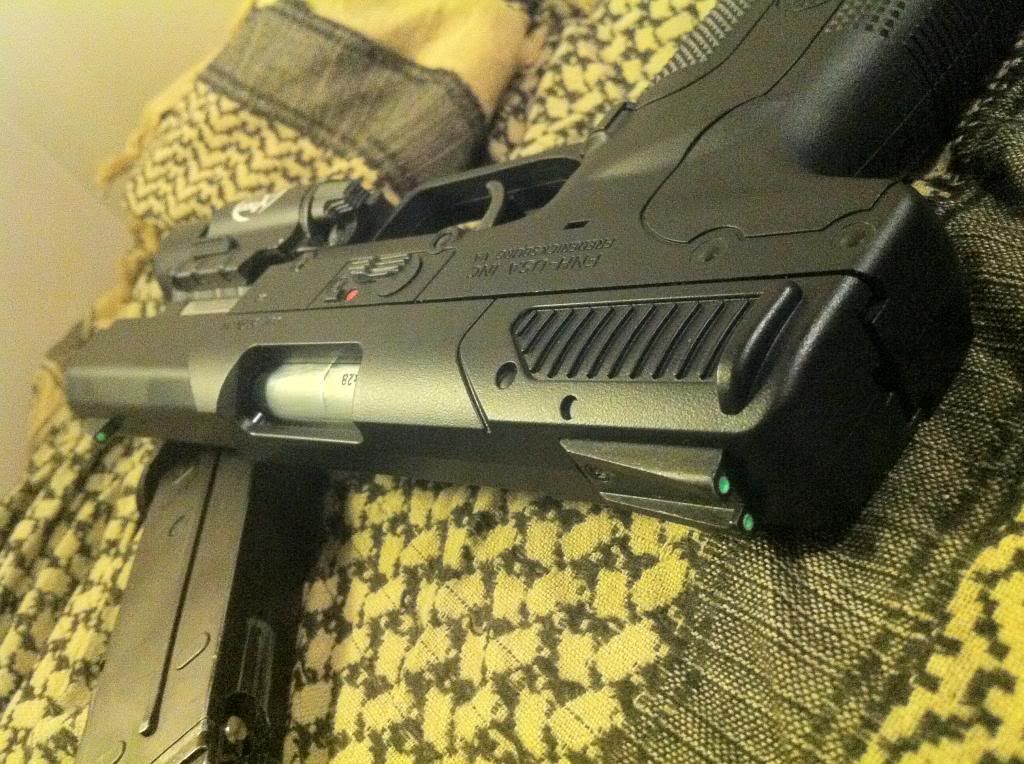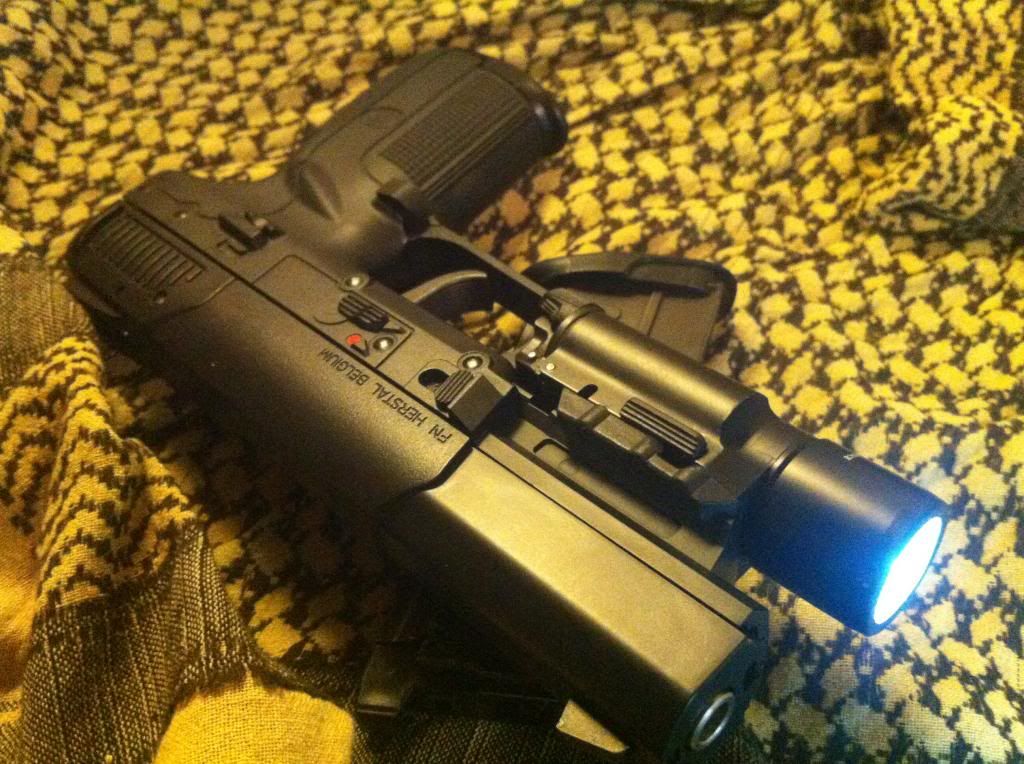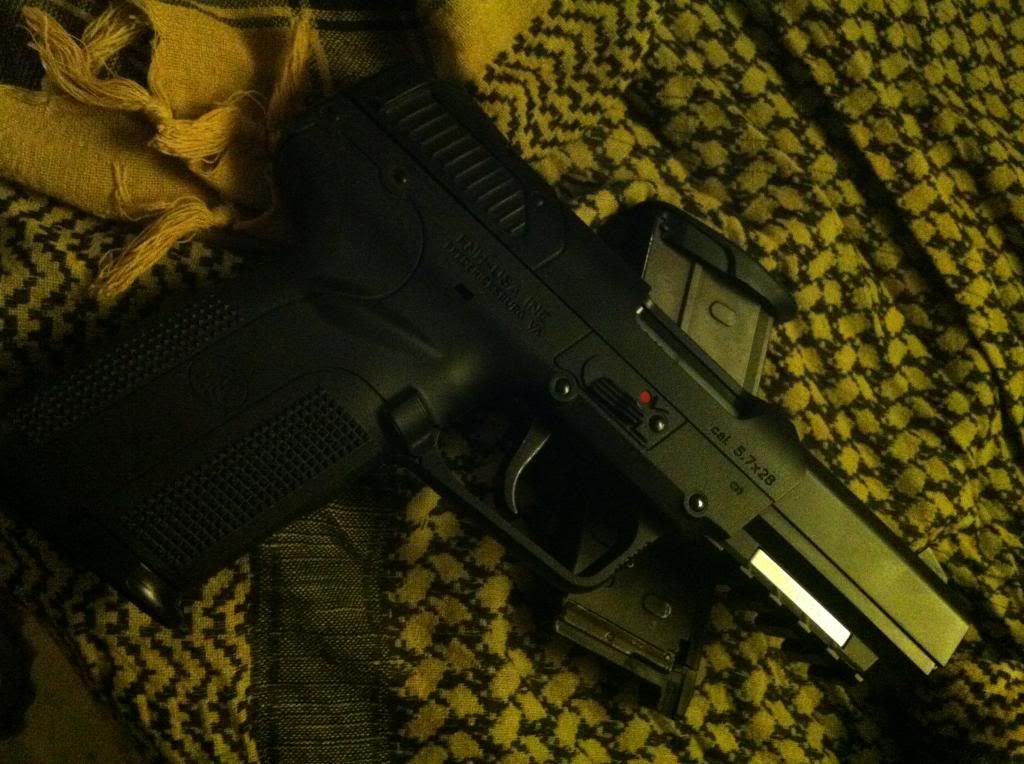 I'm still debating whether or not to keep it all black. As many of you may have observed by now, most of my guns have a two tone color scheme...
The stock look: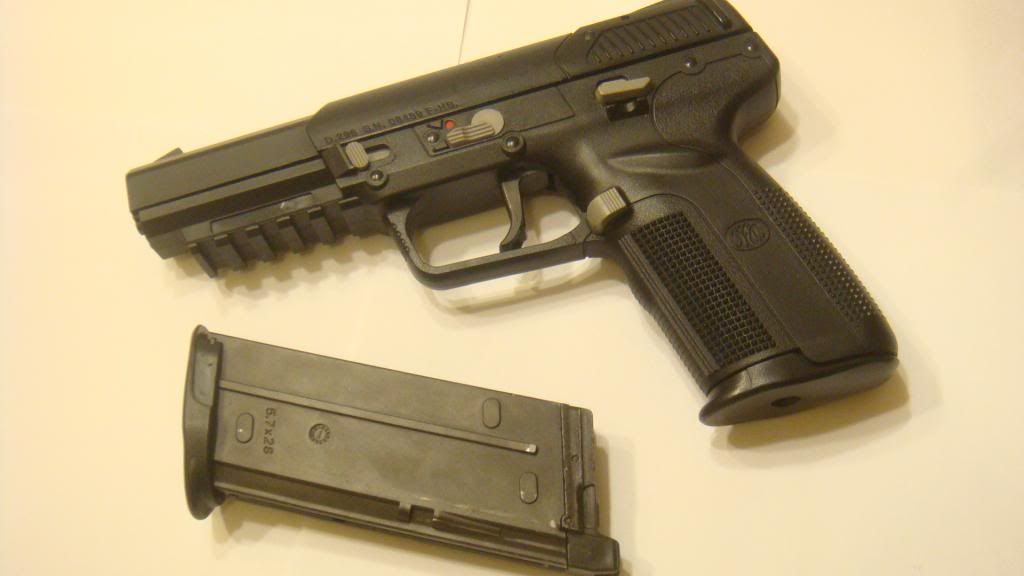 The Parts Kit:
-Guarder Black Frame
-Guarder Black Slide
-Guarder Black hand control set (includes slide catch, safety lever (left and right), magazine catch and takedown lever
-Guarder Steel outer barrel
-NineBall TightBore inner barrel. (it's supposed to be the 6.00 power barrel but I refuse to believe it is. Tokyo Model Company disagrees)
-Nineball Purple hop up bucking
-Creation Aluminum inner slide chasis
-NiteSites bought from Illusion Kinetics
This FN5-7 shoots at 320-340FPS on propane and .20g bbs.
Shooting test Video:
http://www.youtube.com/watch?v=UJnAZ...ature=youtu.be
Many thanks, once again, to ILLusion for bringing in the parts for me. This gun would be in operable if it weren't for you...
Well... that's all for now.
See you next build, kiddies!