Quote:
I bought a tm g18c as my first gas gun this summer and have had pretty good stock performance with it. The only thing is, i can only find HFC-152a duster gas to use with it, and duster gas is pretty weak anyways. I am going to make the upgrade to propane because it is cheaper and has a higher pressure. For my gun to take the propane, i have to make sure it won't break under the increased pressures. How does this sound for a start?; PGC CNC slide/barrel set, Guarder 150% enhanced recoil/hammer springs and guide rod, and Guarder original frame. But the only problem is that i still need to get some shock buffers to make sure that my front screw post/casing don't give out on me. I have heard that the guarder front screw post is not that much better than the stock marui one, and i don't want it breaking on me. I don't want to buy the nineball spring guide pro (the one with the buffers preinstalled) because the spring is too weak for a metal slide and i would essentially be paying about 45 bucks for two shock buffers. I have been looking around for some, but have only came up with the ones from airsoft surgeon that are for the 1911/MEU/Hi-Capa. I'm not sure, but these (if they fit?) look like they would not protect the front screw post too well. So would these fit (does 1911 etc. have about the same diameter guide rod)? Also, what are some other shock buffers i could buy(i don't want to make homemade ones)?
Guarder Frames are good and generally lasts longer than the stock Marui Frame. It has a nicer matte finish than the shiny Marui one. I personally HATE the stock frame....
Though, it has some nice advatages, The Guarder frame is not invincible. As I stated before in previous posts, the frame will will break sooner or later. Sometimes it takes a few hundred rounds, sometmes a few thousands and sometimes, never during the duration of ownership until it gets traded or sold. Then the poor bastard who buys it has to deal with the eventuality of a broken screw casing.
The screw casing's design needs to be changed, IMO. Either by slanting the casing altogether or having a better structural re-design to have more structural integrity.
For me, before I install any new frame (Marui or Guarder), I always cement the casing in epoxy or something of that nature to provide a better base and strutural support to the casing.
Here is what I do:
Quote:

I always JB weld that post before installation. The Guarder Frames are stronger than the stock ones but they are not invincible. THey will crack and break sooner or later.

When they do crack, the usually crack at the base of the post and not around. This is because of the brass screw casing that come pre-installed.

So what I do is cement the casing in JB Weld. You'll notice that there is a large recess on top of the trigger guard on the innards of the frame. Fill that void with JB Weld.

Like this: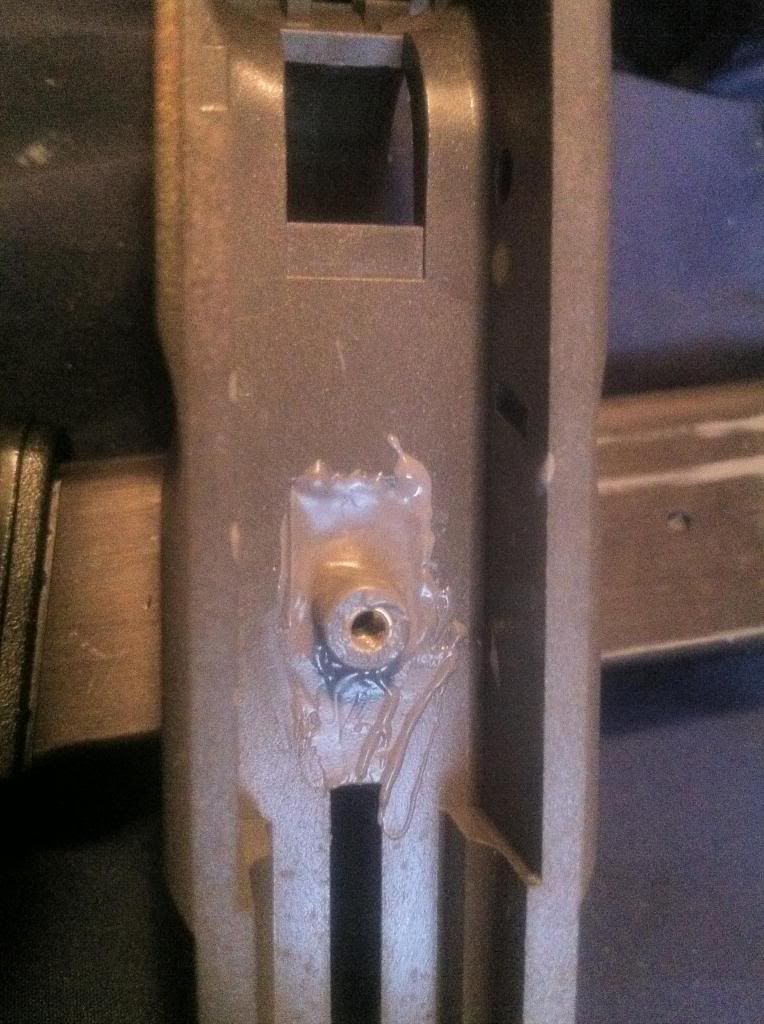 My Guarder frame has yet to show signs of wareage from this mod but then again, I don't use this specific Glock all that often...

Regarding your shock buffers...
Quote:
Which buffers are you talking about? Are they still in stock? What are the best buffers to buy that will protect my front screw post the best? Pls respond.
I was referring to the SA Shock buffers. They are made of hard rubber and come in packs of about 5 or 6(-ish). They do the job but I feel like they are still pretty hard. All they do is short stroke your gun. Even then, if they can't "absorb" the felt recoil, the buffers are somewhat ineffective.
THe best buffers I have ever came across (that I bought) was the NineBall buffers from that spring rod set. But essesntially, that's what you'd be buying if you don't want the crappy spring that comes with it.
BUT the very very very best system to use is to create a second stage spring on the recoil rod. You can see this design on the Marui or KSC Glock 26s or on some competition grade hi-capas. Basically, you'd need a smaller spring in place of the buffer springs and a plunger to separate it from the recoil spring. The spring needs to be stronger than your recoil spring or else it won't work properly.
To be quite honest, there is no real protection against the breakage of the screw casing. It's a matter of time. You can only delay it...
As for your age verification, have a look at the stickies on this forum. Here's the FAQ thread about it:
http://www.airsoftcanada.com/showthread.php?t=49408
It may help if you fill in your location on your profile so that people can assist you in that process...