I just ordered a G&P trigger switch for a friends AEG and before opening the package, he noticed that there are no contacts for the selector plate. Is this normal? I'm not sure how its supposed to work but the pictures on airsoftparts.ca where I ordered it as well as the pictures on Redwolf show the switches without any selector plate contacts. I have never seen this before and all other brands have them as far as I know.
Here is the picture from airsoftparts.ca: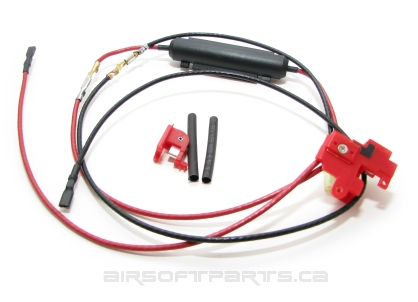 *Edit*
What the hell? Okay, so apparently the selector plate doesn't bridge the contacts but they are permanently connected. So if your trigger block breaks and you can pull the trigger on safe, the gun will still fire as the circuit isn't broken.