Well you're about to see what happens when I get bored, too much caffiene, and left out with not having an AK around to play with.
After having a talk with some friends about wood kits and the like, decided to try and make a wood stock for my M4. Bud suggest a wood RAS system but that wouldn't work at all for any ammount of time, just snap crackle and pop to iny bitty peices.
AK 16. Okay, so I'm not done the staining and have a little sanding left to do, but lately I've not had a lot of time on my hands to play with this. And I still need to get a one peice M16 barrel to finish the front end. Planning to wood turn some M4 fronts too.
I chose too use Walnut for two reasons, 1. its what most real steal hunting rifle stocks are made of, and 2. I had some kicking around that I didn't know what I was going to do with. Now I do.
This is the first stock I made, I was going for something different from the regular M16 stock. The more traditional lines are here in this one. This peice was made as one, not glued together. The battery well was augured and chiselled out. A 8.4 3300mah fits inside and with a couple shaves more the fuse will fit easier but fits with a lil persuasion at the moment.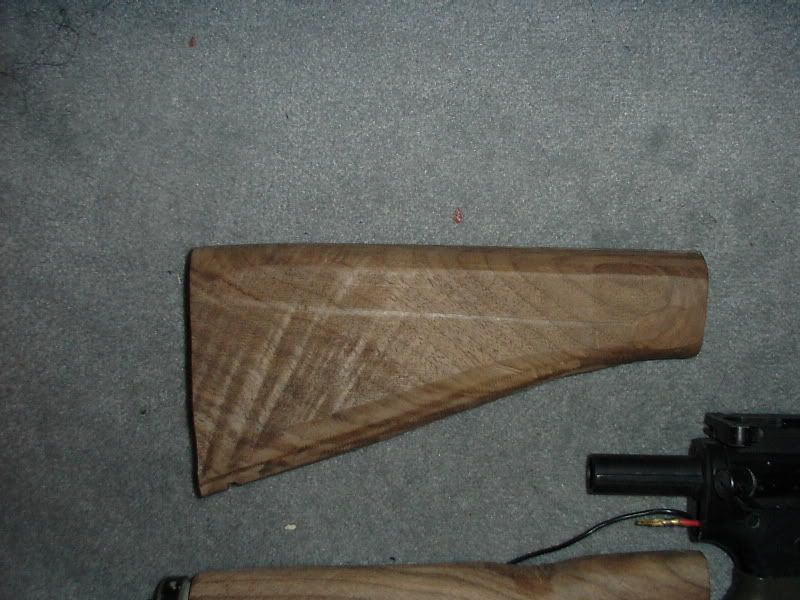 This is the second, and was going for the regular stock, as I only had enough wood to do the simple lines here. This one was made in two peices, one because it was the last of the material and two becuase I wanted to try and different approach and see which one worked better. The internal scap of this peice is MUCH cleaner and more flat, letting everything slide in easily. But I do prefer the outward appearance of no seems, although the seem is hard to see on this one.
And finally the heatsheild. Made of walnut aswell, and wood turned on my laith. selecting a design was difficult here, trying to recreate the same lines on the plastic counterpart to this peice wasn't too hard, although I've yet to set this in a jig I made up for creating the flat edges. Again no time.
Anyway, with a few minor touch ups these first attempts for an M16 are almost done. Will post pics up when they are... or when I get caffiene crazed again :P
********************************************
I present Owl's M4.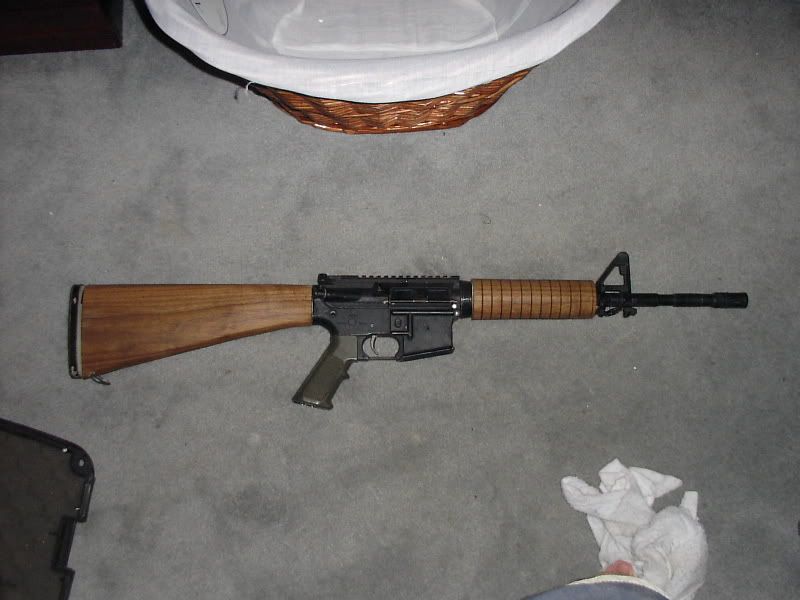 The stock is elongated to accommodate a 10-point-something battery. Owl, you better have long arms, cause I'm telling ya its a good fit for me

.
The front end is a little more suddle this time around. Something different and I found that two things better. One takes less time to sand in around all little corners, and two I actually find it looks better as its more consitant.
NOTE: Its 12 in the morning, my foot hurts I've been driving for 2 hours after 10 hours of breathing in Walnut dust... any spelling errors can kiss my rump at this moment! :P...