Alrighty. Few of you guys know I like getting old-style airsoft guns, and making them look older, or at least have a finish more akin to steel rather than the shit-paint that airsoft guns are normally coated with.
Recently I had made a trade for a CYMA/Cybergun Thompson M1a1. Its full metal, plastic "wood" and a surprisingly amazing performer. Its quickly hit the top of my favorite guns of my collection. And I have a lot!
This is the gun in question. The current finish on the thing is a dull non-reflective black. The paint is well fixed to the gun, despite having gone through a couple different owners hands and who knows how many games it retained a somewhat acceptable appearance. But I hate paint on old guns, doesn't look right! This is what I want the gun to look like with the finished result:
Yesterday I sat down in my garage and started to strip the stuff off of the gun, and just as expected, its proven itself to be quite the pain in the ass. I had an AGM MP40 prior to this, and I had to have the damn thing sandblasted to dislodge the paint.
Luckily enough, it wasn't 'that' bad with the Thompson. I got the barrel and the upper receiver mostly done. Lots of paintstripper and steel wool later, i've come out with this: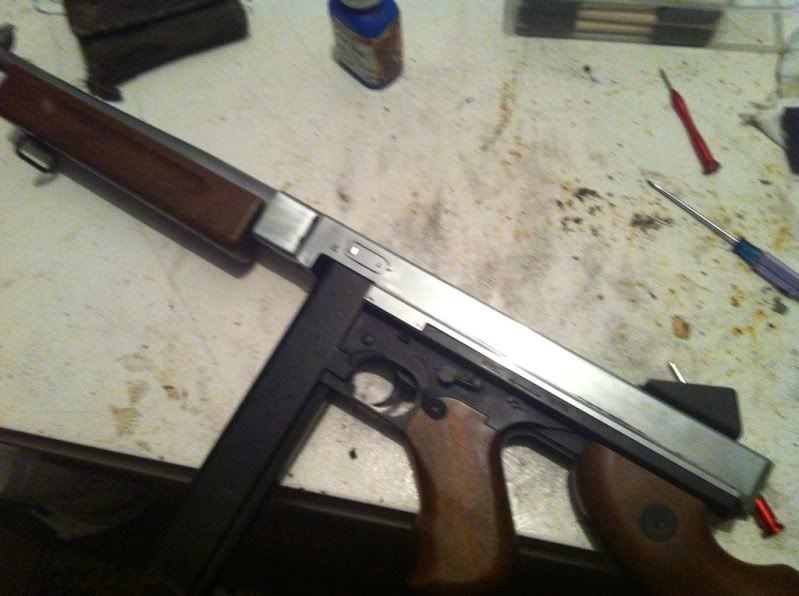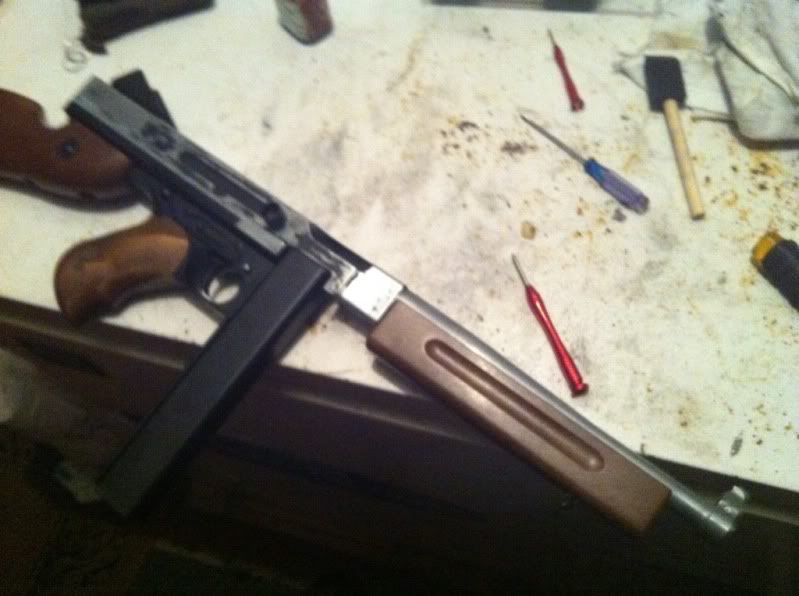 You can see that there is a bit left on the right side of the weapon. The paint-stripper could only go so far before it hit a gluey-powdery substance beneath the paint, I had to either scrape off with my fingernail or steel-wool the living fuck out of it.
Gonna head to a home depot after work today and get some rough and fine steel wool to make the job a bit easier. And since the upper receiver has little detail, it was easy to do. That lower however is going to be a much, much different story. That's probably something I'll have to hit later with a toothbrush in hand later tonight.
And lastly, I just got a wood kit in courtesy of Capital Airsoft.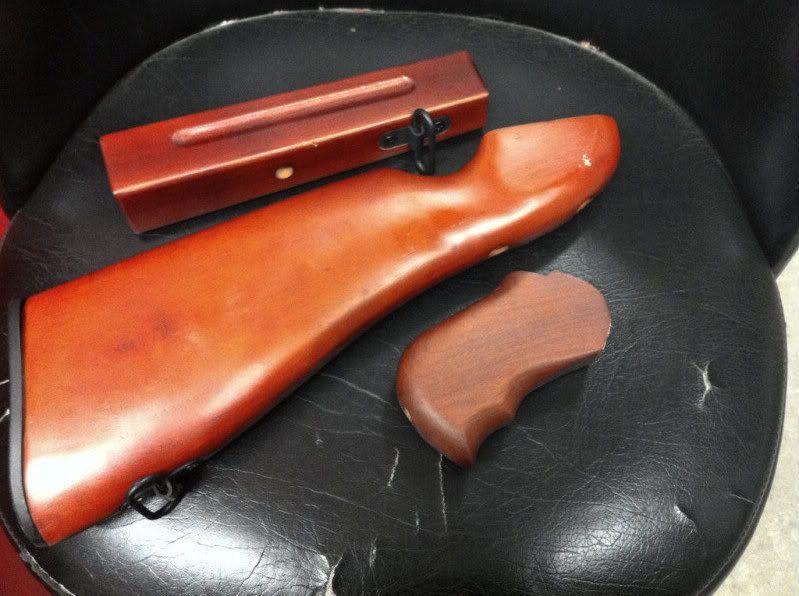 Its pretty alright for a Chinese wood kit. Its decent in wood quality, but the paint is poor. First thing first is to stain it and make it that dark, oiled look that most Thompson's have.
Anyway, I'll update as I go and probably go into detail on how I do the steel-like finish with the Birchwood Casey aluminum black as I get to that point. Gonna be a fun project!